On Friday 6 November, The Siracusa International Institute for Criminal Justice and Human Rights marked an important milestone for its three-year research and capacity-building project across South Eastern Europe, with the launch of a new report: Closing the Implementation Gap: Criminal justice responses to illicit trade in South Eastern Europe and associated challenges.
This publication provides the first region-wide sketch of national criminal justice systems' challenges and opportunities in tackling the phenomenon of illicit trade more holistically and elaborates a series of recommendations for national and regional leaders and policymakers. The report distils the main findings and recommendations that emerge from Strengthening the Fight against Illicit Trade in SEE (SEE: IMPACT), a project of the Siracusa International Institute. The project's central purpose was to identify practical challenges and obstacles for the criminal justice response to illicit trade in SEE, both country-specific challenges and those common to most, if not all, in the region.
In its first phase, SEE:IMPACT mapped and assessed the implementation of criminal justice frameworks relating to the fight against illicit trade in 12 jurisdictions: Albania, Bosnia and Herzegovina (BiH), Bulgaria, Croatia, Greece, Kosovo,* Montenegro, North Macedonia, Romania, Serbia, Slovenia and Turkey. The project's second phase was devoted to capacity-building for a broad spectrum of law enforcement, criminal justice and other relevant actors in seven jurisdictions.
Our very own BCNet members Ambassador Uglješa Ugi Zvekić, Assoc. Prof. Dr. Anna-Maria Getoš Kalac and Assoc. Prof. Dr. Andra-Roxana Trandafir have participated in this extremely valuble project.
Due to the ongoing pandemic, the launch took place online. Attendees were welcomed by Mr. Jean-François Thony, the Institute's President who also moderated the entire Zoom meeting, after which Mr. Filippo Musca, Director General. Mr. Tobias Freeman, Senior Legal Officer presented Highlights from Closing the Implementation Gap. Mr. John M. Sellar reflected on the importance of interdisciplinary approach in regards to battling criminal activity. Mr. Stefano Betti, posed a provocative question concerning the tough decisions lawmakers all over the world will soon have to make when it comes to distributing the national budget that will most probably be diminished because of measures put in place due to COVID-19 pandemic. Professor Paola Severino, the Institute's Vice President, Special Representative of the OSCE Chairperson-in-Office on combating corruption, and former Italian Minister of Justice, although not able to be present live, sent a video presentation where she offered her reflections and further insight into this issue. At the end of the launch, Ambassador Uglješa Ugi Zvekić, SEE:IMPACT's Regional Advisor, shared regional perspectives on the way forward.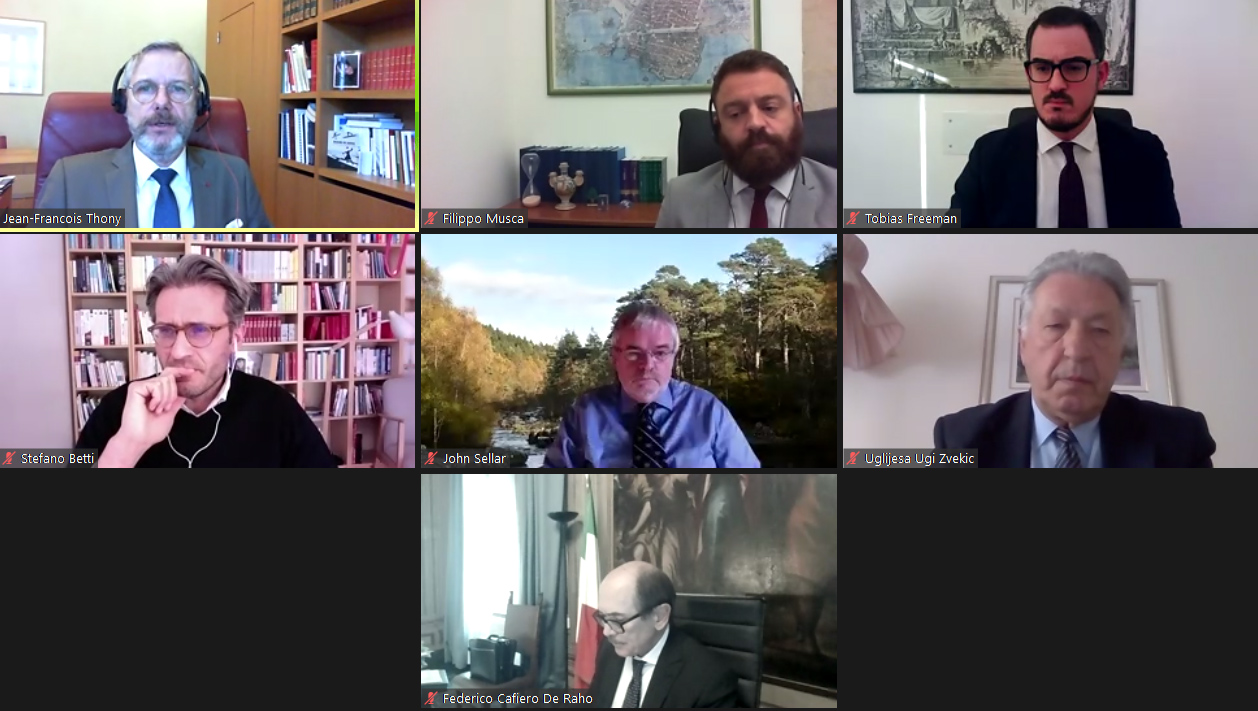 Executive summaries of the entire report can be found in several different languages here.